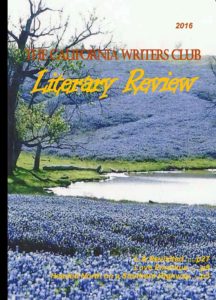 CWC members will soon be receiving the exciting 2016 edition of the CWC Literary Review, an anthology published yearly containing stories, essays, and poetry written by Club members. This is the fifth Review, produced by CWC volunteers and published by the Central Board; providing an opportunity for member-authors this year to be read by well over two-thousand pairs of eyes.
The submission window for the 2017 issue will open on September 1 this year and submission will be accepted through November 30. Guidelines will appear on the club;s website, www.calwriters.org. Members may submit two items for this issue, the submission fee, one or two items, is $10. Look for submission details on the website prior to window opening. Those producing the Review encourage all members to submit.
Thank you Bob Isbill from the California Writers Club, High Desert Branch for providing this information. The HDCWC Facebook page is here: www.facebook.com/HDCWC (but you need to be logged into Facebook for this link to work).