How to Overcome Writer's Block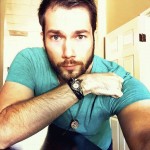 K. Andrew Turner is a writer and editor of an on-line electronic literary journal. He can answer questions about the world of on-line publications, and he will use this session to help us get our writing done. He has developed techniques, using meditation, to overcome writer's block, clear the mind and effectively diminish any roadblocks to writing. With breathing techniques and visualization added to the session, you will have all you need to get writing again. Bring pen/pencil, paper, and something to write on.
K. Andrew Turner writes literary, queer and speculative prose and poetry. He teaches and mentors writers near Los Angeles. In 2013, he founded East Jasmine Review—an electronic literary journal—where he remains the Editor-in-Chief. He was a semifinalist for the 2016 Luminaire Award, and his chapbook "Gymlationship" is now available on Amazon. You can find more at his website: www.kandrewturner.com.